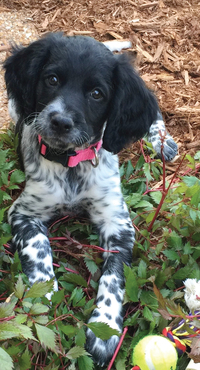 Dogs have always been treasured members of Lori and Todd Rothenberger's family. Both Lori and Todd had prior hunting backgrounds, while growing up in the South Dakota outdoors. In the years after their daughters have moved out of their home for college and marriage, the couple have been able to devote a lot of their time together enjoying their favorite things: being in nature, hunting, and working with their dogs. Their first dog, Mickey, (named for the three large spots on his back that looked like the famous Disney mouse) was a German shorthaired pointer. When their daughters; RiAnna and Taylor, were still in grade school, the family enjoyed participating in the canine program, "Dog R Us" with the Yankton 4-H Program. Todd was the "Dogs R Us" leader for seven of his fourteen years with the club. Mickey was a wonderful dog, and he was a popular visitor at local nursing homes, but he wasn't properly trained for hunting, and was high energy and always on the go. He had trouble adjusting to family time when not hunting, because he had such a strong drive for the prey outside and would bolt after any fowl, every chance he got.
Regardless of any breed they've owned, Lori and Todd have always wanted their dogs to be very socialized and have taken them to public gatherings often. Whether it was to walk in annual parades such as: The Parade of Lights at Christmas, the Czech Days parade in Tabor, or simply enjoying outdoor summer band concerts at the Meridian together. The Rothenbergers have always enjoyed spending time with their beloved dogs in leisure as well as off the clock.
When the family decided to welcome a second dog into the family fourteen years ago, they had been introduced to the Large Munsterlander breed and desired one of their own. The Large Munsterlander has as Lori calls it, "An off button. They are more relaxed and comfortable when at home, but when I take them out to hunt – games on!" Among the breed's notable attributes are their calm, family-friendly disposition, intelligence, eagerness to please and excellent versatile hunting ability. Lori recalls, "We just fell in love with the breed's personality and knew it would make a wonderful hunting dog."
After patiently waiting for the birth of their puppy, the couple brought home their first Large Munsterlander; Snowy Oaks Desi, of Prior Lake, Minnesota. They picked her, because they found the breed esthetically beautiful with their long silky coats, soft ears, and flowing, fan-like tails. For some, the long coat can be a detraction because of the tendency for them to catch burrs and stickers. Keeping them clean and tangle-free can be time consuming. Lori feels it's well worth it though, because not only does she prefer the look of a long tail visually, it's also more helpful in the pointing aspect for hunting and can communicate a lot about a dog's mood. Lori also wants to make it clear that while this breed is an apple for the eye, they are also adept workers in their natural outdoor environment.
Initially Lori was a little nervous about guns because she'd learned from childhood experience that not only were they loud, but sometimes they kicked too. Lori was fully committed to hunting as a family, so on Mother's Day in 2007, she and Todd went shopping together and found a twelve gauge under and over that fit her well, and she's been using it ever since.
The Large Munsterlander breed originated in Munster, Germany. In the United States there is currently a small gene pool, with most of the breeders located in Michigan, Wisconsin and Minnesota. Choosing a breeder is an important step for all potential purebred dog owners, regardless of the type of breed involved. Lori and Todd asked a lot of questions.
It's the breeder that decides who each puppy will get placed with. To be on a waiting list is common, because there are more people wanting puppies, then are actually available.
This is especially true if specific breed characteristics, such as coat markings and colorings are desired. On average, there are only eightyfive Large Munsterlander puppies born in the US each year. Females approved by the Large Munsterlander Association can only have one litter a year, and a break of a year in between litters is recommended.
With the arrival of their young Munsterlander, early training was a priority. Lori quickly became immersed with the Midwest Tri-State Chapter of NAVHDA in Sioux Falls and (now defunct) Freeman, South Dakota. NAVHDA is the North American Versatile Hunting Dog Association. Lori wanted to share her talents with the Large Munsterlander Association of America organization, and has been the treasurer since 2007.
Lori also came up with the fun idea of creating a Large Munsterlander calendar as a club fundraiser, but primarily as a way to promote the breed. This was very successful and ten editions have been printed to date.
After the addition of Desi, and the passing of Mickey, two more Large Munsterlanders from Snowy Oaks Kennel, have come home to live with the Rothenberger family. Meeka, currently nine years old, and Vienna, now four years old, are related by a lineage of grandfathers, great grandfathers, and great great grandfathers. The American Large Munsterlanders breed have a proud, one hundred year history of performance based ability breeding. The Rothenberger dogs are no exception to this tradition. Lori and Todd agreed to test all their dogs when purchasing them from their breeder.
According to the Large Munsterlander Association of America website: "Field testing is a cornerstone in the breeding management of the Large Munsterlander by the LMAA. They encourage owners, to help maintain/enhance the valued hunting qualities that excite all new and existing Large Munsterlander (LM) owners by pursuing some level of field testing for your dog. Even if you may not plan to breed your LM in the future, having your dog evaluated via one of the approved field testing programs provides important information to both the individual breeder as well as LMAA in general. It also provides you with both incentive and a timeline to plan your training, and provides objectives and milestones to gauge your dog's progress towards being the ultimate versatile hunting companion. All LMs approved for breeding by LMAA have passed some form of field evaluation focused on heritable hunting traits prior to the age of 16 months (and/or have pursued more advanced tests)."
The couple divides their Munsterlander chores and share tasks, Todd relates "Lori carries the heavier burden by far. She does all the day to day work, but there are times I pull my share too. I'm the wheelman for all the training sessions." Lori feeds the dogs, does the poop-patrol, while Todd is the muscle in charge of the guns, wrangling the birds, and the packing and unpacking of all the gear for their hunting trips. Lori and Todd also have a long-standing agreement that after hunting, "Todd cleans the birds and Lori washes the dogs."
The Rothenbergers have recently had new joys and challenges with the birth of Vienna's first litter, born January 31, 2019. Vienna is the first dog Lori and Todd have ever bred. All of the eight puppies have been happily placed with excited new families from as close as Sioux Falls, to as far as Texas and Pennsylvania. Todd and Lori kept one for themselves too, a sweet female they named Harley. Harley has already been to her first quail hunt, and is registered for her first go at testing in Sioux Falls with her mother; Vienna, this September.
Some pearls of wisdom the Rothenbergers share for hunting dog owners are: "We're always learning new things, all the time. We've learned that each dog is different, even though they are the same breed. You need to use different methods for training different dogs. Some dogs require more patience and time in learning new skills than others."
"It's all about the journeys that we choose for ourselves. I've always loved dogs and working with them. This journey with my dogs is more than just a hobby. It's a way of life. It's something I can enjoy with my husband. It gets us outdoors in the fresh air, keeps us active and constantly challenged to improve my training and hunting skills. We get to go out and see such beautiful parts of the country." Lori feels her journey in working together as a couple with their dogs has helped make her better at communicating with Todd. She learned she needed to be very clear and specific in her narration. The time spent together keeps the couple close and their marriage strong.
Among the most popular hunting breeds locally are Shorthaired Pointers, and "people that have versatile hunting dogs, have a favorite breed and they're probably never going to switch and that's okay. We just want to share what our experience has been raising Large Munsterlanders. Todd and I want to breed good family pets that can hunt." Todd chimes in, "We spend our time, energy, and resources in the field – under the big blue quonset, with an appreciation for God's creation while being outside." In asking the couple about what their favorite prey to hunt is, Lori is quick to respond, "I wouldn't hunt if I didn't have a dog. I hunt for the dogs, because I enjoy watching them work. I enjoy watching them do what they are bred to do. I love watching them flush, go on point, and retrieve. I could chase a golf ball around forty acres, but I'd rather watch my dogs." When asking Lori how she decided which people to place puppies with she casually replied, "Oh, I just chose people who would treat them the way I treat my dogs." That's a tall order. Any versatile hunting dog that gets to live with Rothenbergers gets the best of both worlds. They get a family that adores them at home, and brings out their very best outdoors as well.