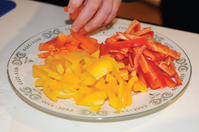 Unlike the game itself, Steve and Tracy Huff's Super Bowl meals have no losers — only winners.
We met the night of the big game, and I offered to wrap up the Her Voice visit before kickoff between the Kansas City Chiefs and host Tampa Bay Buccaneers.
"Oh no, this is going to be a pre- and main game. See you at 5 (o'clock)," Steve responded, intending to go all in with the experience.
The night's menu: a full taco bar with the choice of shrimp, chicken and lamb and an array of toppings for the taking. The taco bar wasn't the only star of this game, as lamb nachos were served up as another offering.
With the Super Bowl counting down to kickoff, the Huffs were participating in their own pre-game festivities. Tracy chopped up three different kinds of colored peppers with true precision, creating a thing of beauty. Meanwhile, Steve prepared the lamb and also homemade salsa, queso dip and cocktail sauce.
As for the game, the Huffs had no real dog in the fight. Still, they showed their team loyalty — Steve in his Pittsburgh Steelers cap and Tracy wearing her Walton Payton jersey as a Chicago Bears fan.
"Sweetness!" Tracy yelled in tribute to the Bears running back's nickname.
With the game being played in Tampa, it marked the first time that one of the Super Bowl teams was hosting the game in its own stadium.
Kicking Off A Great Meal
The pandemic has changed so many parts of our lives, including the cancellation of major events. But in a welcome sign of normalcy, the Super Bowl went on as scheduled albeit with limited attendance.
Still, there was plenty of pageantry, including the pre-game flyover that included a bomber from Ellsworth Air Force Base near Rapid City.
In keeping with the spirit of the moment, the Huffs stopped their work and stood at attention for the national anthem.
When it comes to the Super Bowl, the Huffs admit they get more excited some years than others. Even if their beloved Steelers or Bears aren't playing, they still enjoy the atmosphere surrounding the "holiday."
For them, it's food, fun and also checking out the halftime show and commercials.
"For me, the cooking is what I enjoy the most," Tracy said.
Because of COVID-19, this year was different, Steve said. The first Super Bowl of the pandemic took on a more somber tone, he said, although he still noticed large gatherings as he drove through Yankton that afternoon.
"We've cooked for past Super Bowls and gave (the meal) away as part of a fundraiser," he said "But that's not happening right now (because of the pandemic). Hopefully, we'll start it up again in 2022."
Pre-Game Preparation
For our Super Bowl meal, Steve worked with a large shoulder of lamb, shredding it and using a vegetable marinade with bay leaf for extra flavor. For Steve, lamb makes for a good topping for tacos and nachos or as a great part of a flavorful stew.
"We started making the lamb at 350 degrees," he said. "Look at how it just breaks apart with a fork."
However, he warned about finding two large pieces of bone in the lamb. The episode proved why it's important to check ingredients at the start.
"It's just like when Tracy finds bones in chicken," he said. "To find (the fragments), you need to let your fingers do the walking."
Steve said he loves working with lamb. "People think it's hard to make, but it's actually one of the simplest things in the world. My mom was one of the skeptics," he said.
At that point, Jean Huff — Steve's mother — voiced her opinion.
"I am anti-lamb. I don't like lamb chops. It's just not good," she said, particularly noting the taste. However, she admitted Steve's mastery has at least partially won her over when it comes to lamb.
Steve said he understood her stance. "Even good lamb prepared stupidly isn't very good," he noted.
A Winning Combination
How did they come up with the combination of chicken, shrimp and lamb for the taco bar? Tracy and Steve offered different perspectives.
For Tracy, it came down to convenience and what was on hand.
"I plan meals for the entire week, and these were some of the leftovers from throughout the week," she said. "We did the chicken and the lamb in the crockpot on different nights and stretched both of them for additional meals. For the shrimp, I did a cheat and bought it frozen.
In the end, I didn't do as much prepping today as I have for past meals."
As a side dish for dinner one night, they tried a mix of broccoli, cauliflower and macaroni and cheese. The combo drew raves from the family.
Steve liked the Super Bowl protein choices for a different reason.
"We work during the week, and that's the meat we had. This seemed the best to go with nachos," he said. "I could have gone with ground beef, but that would have been a little heavy. And if you eat ground beef nachos and have a decent amount (of alcohol) to drink, you don't want things sloppy. You don't want your gut heavy, and these meats are the right ones."
For a bit of crunch, Steve tossed blue corn chips into the oven to warm things up and to melt a layer of cheese on top of the chips. The Huffs prefer the blue corn chips because they are less processed. Their son, Nathan, likes the sprouted tortilla chips.
When it comes to salsa, the store-bought version won't do. Steve made his own homemade salsa for dipping and also covering the main dishes.
He took out his "bible" of recipes.
"Get the juice of two limes and a couple ginger cloves, then put them in the food processor along with a big handful of cilantro and one good jalapeno. I've taken out the seeds, where the heat is, because my mom prefers not having anything hot," he said.
"Once you've blended the first (ingredients) together, then you blend two cups of cherry tomatoes and a tablespoon each of ketchup, water and your favorite hot sauce. Add salt and pepper, blend it together and there's your salsa."
Steve said he was surprised at the good selection of produce in February. However, some items — such as Fresno chile peppers — couldn't be purchased fresh at that time of year.
Besides the salsa, Steve rolled out his homemade cocktail sauce for the shrimp. The sauce made for good dipping with each shrimp or as a tangy topping for the tacos and nachos.
"Really good lemon makes for a good cocktail sauce," he said. "We make homemade cocktail sauce for your shrimp because we care."
Speaking of spice, Tracy rolled out her large selection of orange, red and yellow peppers. She also cut up scallions for another zippy topping.
Tackling The Offerings
The time came to tackle the Mexican fare for the ultimate American football game — an international treat for the taste buds.
"If you really want to power yourself up for fun, try these tacos and nachos," Steve said, pointing to the full counter.
The taco bar meshed well with the Super Bowl camaraderie, Steve said.
"If you're used to great games, you want to get into the moment.
You're not going to try and create a Beef Wellington, and you're not going to serve pheasant," he said. "You want something fun and easy with the opportunity to walk around while you eat. You also don't want to make anything where you worry about overcooking it and it gets mushy. You want to eat as you talk. And you want the ability to graze (from among several food choices over a long period of time)."
Jean started with strong coffee to warm up when she arrived, but she also enjoyed wine with the meal. She praised Steve and his brother for their culinary skills.
"When the boys came home from college, they asked what they could give me for Christmas. I said, 'the gift of cooking!'" she said. "The boys bought the groceries and did all the preparation and cooking. We also had my parents over for supper. I looked forward to the holidays. With (my sons) in the kitchen, it was like watching creativity."
For our Super Bowl meal, the various cheeses provided more star power for the palate.
Tracy worked with Fontina — a milky white cow's cheese originating in Italy — as well as mozzarella cheese for the tacos and nachos. She also likes BelGioioso cheese. Steve prefers jack and Colby along with sharper Mexican cheeses, jalapeno, ghost pepper cheese and pepper jack.
Steve roasted peppers and sauteed onions, making his eyes water. He created his own queso with Velveeta and rotel cheeses along with a Mexican sausage.
Wrapping Up The Victory
For a sweet ending to the meal, Tracy served up cocoa brownies and popcorn balls.
"I'm doing something different with the popcorn balls. It's one of the things I haven't made for a while. It seemed like a fun thing to do," she said. "I popped my popcorn over the stove. It's a little nostalgic, the way my mom used to do it. We have the oil in the pan with the kernels, and we shake it. Abby (their daughter) loves popcorn that way. It tastes so much better."
Sometimes, Tracy infuses popcorn with flavored oils such jalapeno and mushrooms for a different twist.
For the evening meal, Tracy recommended a cold beer in a mug or a glass of wine as the perfect accompaniment.
For this occasion, Tracy opened a Malbec wine. She used a filter to remove the nitrates and sulfites from the red wine. Malbec contains a deep purple color and full body using smaller, dark grapes with very thick skins for a rich, fruity flavor.
"You're aerating and getting rid of all the nasty stuff," she said. "I love the Alamos Malbec wine, it's my favorite. I like my Argentinian red, but I especially like the Australian red wine."
The family retreated to the den to watch the end of the Super Bowl game on the large screen television. But in the end, the game's outcome didn't matter. The evening was a winner all the way around.
"During this meal, everyone gets what they want and it's fun," Tracy said.