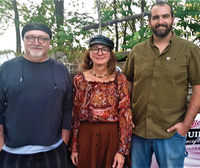 The Jetley Park Band are a fierce, three piece rock band that plays covers and original music, mainly from the 70's through the 90's.
The lineup is Mary Begley on bass, Kevin Patten doing drums and Zach Holoch playing guitar and keyboard, with all three providing outstanding vocals. The band is all electric and digital, with a seamless sound quality that courses through audience bodies like hot, August sunbeams. The band has its own posse of devoted roadies/good friends that accompanies the band and assists with the set up. Mike Bales covers the electronics, and makes sure the sound and lights are ready to roll.
Jetley Park is a recent transformation from its earlier incarnation known as, Mrs. Begley and the Boys, and celebrated its one year "banda-versary" this October. The original band formed around the year 2000 and has been constantly evolving since its inception in the Begley family basement. Mary was initially concerned that there might be some confusion with the new name, but it didn't take long for their great sound and reputation to be recognized however, because their unique sound leaves a lasting impression. The Jetley Park's members are always excited about offering new material, as well as pleasing the crowd with old favorites. A current edition this year was written by Zach Holoch and is titled "Down Loose Ridin'." This catchy song is funky and fun, and always well received by the crowds.
The Jetley Park members are long-time friends that work full-time jobs, outside their musical collaborations. Mary has been a teacher at the Vermillion High School since 1999. Her specialties are English, speech and theatre. Kevin Patten is a television producer for the South Dakota Public Broadcasting's popular live performance musical show:
"No Minimum no Cover." Zach Holoch has a degree in IT, and is the owner/operator of Holoch Farms and Goat Island Music LLC. The three bandmates juggle very busy lives but share a common passion for performing live music, and are often booked every weekend.
Mary is a petite, wisp of a woman, but unleashes a storm of a voice when singing covers such as Janice Joplin's, "Piece of my Heart", Tracy Chapman's, "Give me one Reason" or Jefferson Airplane's, "Somebody to Love". The whole band loves playing amazing versions of tribute songs, and everyone takes their turn to shine on the microphone.
Zach's renditions of Queen's, "Crazy Little Thing called Love" and Creedence Clearwater Revival's, "Bad Moon Rising", quickly has the crowd singing along, and Kevin's rendition of "Suzie Q" has people out grooving on the dance floor.
Then there's songs like Tom Petty's, "Mary Jane's Last Dance" that has the combined harmony of everyone, with the authentic southern charm of Mary Begley playing the sweet spots on her mouth organ. The band's play list is so extensive and so good, you won't want to leave until the end of the night! The songs are a wonderful mix, with each being as good, or even better than the one before.
The acquisition of the band's new name has an interesting story behind it.
They were in the process of renaming their group, when Kevin was working on ideas for an episode on SDPB about local, old abandoned towns. He asked Zach if he knew of any, and Jetley Park was just a stone's throw from Zach's family farm. Back in its hay day, Jetley Park was only a handful of farmhouses about a mile southwest of Meckling. The town had a bit of a rough reputation due to its outdoor dance floor, and weekends full of live music, dancing, and general carousing that went on late into the night. Zach has had the rumors about Jetley Park substantiated by his grandpa Herbert, and elderly neighbors.
There were tales about a moonshine still out behind the dance area, and you could easily get some if you knew who to ask. Young men and women were discouraged from stopping there, because of the temptation of getting into trouble, but many enjoyed good times there anyway. Pretty much all that's left of the original town of Jetley Park now, eighty or more years later...is the old cemetery. The band let people vote on their Facebook page and Jetley Park was the obvious favorite, and the name stuck.
The year of 2020 has been a trial for everyone, and Jetley Park experienced its own battles with the effects of Covid and the need for social distancing in order to stay safe. When popular establishments reopened, the band did their very best to choose gigs where they could play outdoors at locations such as the Cottonwood/Shipwreck in Yankton, and the Hay Shed bar and grill in Gayville. In the beautiful, twilight evenings, people would bring their lawn chairs along and spread out for an evening of much needed entertainment.
With the weather turning cooler and the harvest a particularly busy time for Zach, the band wrapped up their wild schedule in October, and are looking forward to some down time in late winter to join up and fine tune some new original music for the next music season. Jetley Park is on Facebook with all their upcoming show dates. Mary Begley's contact information is also available for those interested in booking the band. In addition to local shows, the band is happy to play for private parties and celebrations as well.