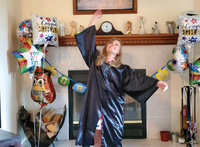 Four years is a long time. A long time to build friendships that will last a lifetime, a long time to get to know the lines of a city, the way a river curls itself through the skyscraper teeth of a financial district or a downtown. Four years is far long enough to call somewhere home.
And for many graduating college students- that fourth year- and their homes were ripped away from them unprecedentedly.
For me, Boston was home. I lived in a small, one-bedroom apartment in Back Bay- which I technically still have until September 1st, though my time there this summer will be limited due to obvious reasons. The same is true for thousands of students across the country.
Those who lived in dorms or school-related housing were even less fortunate. Many were given less than a week to pack their belongings and leave. Some were even left homeless.
I remember the second that I received the email from my school, Berklee College of Music, warning students of the impending shut down and informing everyone that all classes were to be held remotely for the foreseeable future. It was March 11th – two days before spring break. I was sitting in Advanced Lyric Writing 2 with Pat Pattison in 150 Massachusetts Avenue- a main building for classes and rehearsal space for Berklee College of Music. That class was a small one- and a special one, it was invite-only. Everyone in the class was handpicked by Pat because he believed them to be his 12 most promising songwriters.
Pat is an internationally renowned writer and educator- his books are used at schools across the country and around the world by aspiring lyricists and songwriters- he's a badass, by all means. But he's also an older man- nearing his 80's- which puts him right in the highest risk group for COVID-19. As we read the email out loud and discussed it, I realized how frightful this all must be for him. I watched his face work through a flush of emotions- faculty were notified only an hour before students were of the shutdown and he- along with the rest of us- was still clearly trying to process the extent of what this meant for everyone.
As class neared an end, Pat read us an excerpt from The Four Quarters (East Coker, Section V) by TS Elliot. People began crying.
I realized that I might literally never see my friends again. Friends I'd had for four years now- friends who did the real "growing up" with me. I realized that four years of working with my band- people who'd become my support system, who I'd spent hours at rehearsals and shows with, all the people I'd grown to love dearly, were just gone. I started crying. Pat told us he loved us, and we did our best to hide our tears from passing students in the halls as we prepared to leave the room- and for some of us- our last class on a college campus- ever.
We all hugged each other good-bye, and I walked to Pat's desk with a sinking heart. I remember him looking up at me, I remember holding his hand and telling him that I loved him. I was terrified for him- I was shaking. I even remember asking him if he'd be around in the summer- that maybe I could see him then, naively thinking that this would be over in a couple months. None of us had any idea of the length of this pandemic- this trauma. There is no way to put that feeling into words. It was an insurmountable loss. Here I am, writing this in June- and I am still grieving.
But for the sake of my health, I had to look forward as much as I could, so that I'd spend less time looking back. The same was true for everyone I knew.
After spring break, I headed to Yankton to be with family- abandoning my home in Boston, and the life that I'd known for so long. Classes started remotely, through platforms like Zoom or WebEx, and we made the most of a difficult thing. For the students of Berklee, though, this was not an easy task.
Berklee is the leading contemporary music school in the world. They offer nothing but music. Our classes involve live bands, live performances, showcases, one-on-one lessons, and group lessons. All of which are nearly- if not totally- impossible to do online. Ensembles were the hardest. Berklee's student population is also widely made up of international students many of which are located in places like China, South Korea, Australia and India. That makes online classes incredibly difficult for them, since the time change is massive.
Two students in my pop/rock/country ensemble were from China. It took them two days to get home, and then, by the time class rolled around each week, it was 1am their time. My instructor had to hold a separate class just for them, so they could continue to perform without waking their families. This was a special and thoughtful thing for her to do- teachers were not required to do that for students. Students were expected to watch the classes (teachers were supposed to all be recording during the live online class) at a later time if it didn't work for them.
For the pop/rock/country ensemble, we would play a new song each week with a "house" band, to practice performance and vocal skills. That obviously can't be done through the internet, so we switched to stripping it back. I played guitar or piano and sang, but it was
obviously not nearly what it should've been with a band. However, it was a chance for the professor and my classmates to hear my songs in a different way- and it was a chance for me to listen to my classmates' songs in a new way as well. We had bonded in class at Berklee, but we
got to know each other more in a way through this format as well.
When graduation came in May- I struggled. I texted friends, we congratulated each other, but we also acknowledged how hard it was. Berklee's graduation is held in an arena, and every year they hold a massive commencement concert. Last year, Justin Timberlake and Missy Elliot performed alongside the students. This year, John Legend and Sheila E were scheduled to perform and receive honorary doctorates.
The commencement concert was all filmed remotely and put together by a team of editors- so in a way, students as well as John Legend, Sheila E and the other honorary doctorates were able to still perform. This was a massive feat on its own, and everyone involved was incredible and worked hard to deliver something that- while it definitely wasn't what it would've been- was still incredibly special and important to the graduating class of 2020.
The actual commencement ceremony took place the next day, May 9th. I woke up to a house decked out in balloons and decorations, and a brunch on the table with a bottle of celebratory champagne. My parents greeted me excitedly from the living room, and we turned on the TV to YouTube, where the school was to livestream the ceremony. John Legend spoke, and I cheered for my friends and they read our names. Berklee's graduating class of 2020 was 1,188 students strong. That number represents people from 66 different countries around the world, and people from almost all 50 states of the U.S.
Now, those 1,188 students are moving on to different music cities around the world: London, Atlanta, Los Angeles, Tokyo, Nashville, and more. Berklee alum have won almost 300 Grammys, and work around the world in the industry. Many of them are activists and vocal
advocates for equality and change. Now, the class of 2020 has the chance to be that impact on the music industry- and the world- for the better.
Regardless of whether you studied music, medicine, law, engineering, or any of the other endless fields out there- you did it. You made it through some of the best and some of the most difficult times in your life. I encourage you to celebrate. To reflect on all the good moments and to learn from and let go of the bad. We should be proud of each other. I think that it is so important for the class of 2020 to take time to acknowledge and process what happened to them. It was traumatic- and there is no shame in taking time to mourn. We are stronger together. We can, and we will heal from this, and we will go on to make a difference in the world. The year 2020 has been a year for the history books. From civil unrest and protests for equality and justice to riots in the streets to a global pandemic- one thing is for sure: this year will be one to remember- and one to learn from.