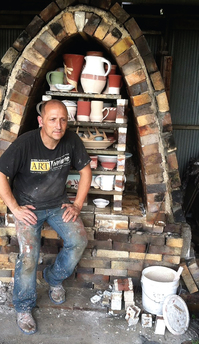 Watching Dan Bartos transform a cold, hard, chunk of gray clay into a graceful vase, in a matter of minutes is awe-inspiring. While holding an engaging conversation he appears to not be focused on the rough material in hand, slamming the clay against a slab to get air pockets out, molding it into a useable ball and working with it at his wheel. He makes it look as easy as putting on a pair of shoes. Perhaps that's what comes of a talent honed over 42 years. Growing up in the Midwest and Alaska, Dan's family was often outside enjoying nature. Dan's father, Louie, worked as a hydrologist for the United States Forest Service and was constantly outdoors getting data for studies. It wasn't uncommon for him to bring home bags full of natural clay, fresh from the earth, for his young children to play with. Dan enjoyed it the most, right from the start. He did a few simple projects with clay early in grade school too, but it was when Dan was in a seventh grade art class that he had his first formal clay experience using a pottery wheel. "I was in the first group of kids trying out the wheel and had instant success making my first bowl. I took to it like a duck to water. After that, the next stuff I tried wasn't so easy!" Regardless of difficulty, Dan was hooked on making pottery in a big way, and his passion for creating continues to this day.
Dan shares how his parents had a long-time family tradition of hand-churning their own ice cream and having huge ice-cream socials for family and friends every year. "They would make over 30 gallons of ice cream, with at least ten different flavors, and fifty different toppings." Dan's mom acquired a huge collection of his bowls and dishes over the years, and put them all to good use at these gatherings.
Dan recalls, "My first studio was in my folk's laundry room when I was in eighth grade. I delivered newspapers and saved money to build a kick wheel, and eventually bought a small electric kiln." It was while preparing to enter college, that he built his first gas fired kiln. Dan's love of art continued and he studied art and education at Montana State University. He graduated with a double major in art, and teaching: kindergarten through high school. He taught
high school art classes for eleven years in Homer, Alaska before moving to Yankton. In his personal work at home, Dan's focus was making ceramic production pottery (dinnerware). He did this for twelve years and eventually branched out creatively, into making more experimental pieces. As his talent and pottery inventory increased, Dan started exhibiting his work in many gallery shows and museums in Alaska, Montana and international shows in other states.
When Dan and his wife, Estell, decided to uproot with their then, six of seven children to the Midwest in 2006, they knew they wanted to live in a state that wasn't overly populated, with lots of access to nature. They both had come from rural communities and preferred the lifestyle. They needed access to specialty healthcare for their son, Saxon also. Yankton was perfect, not too close or too far from a large city if needed. It was a huge leap of faith for the family. The Bartos' found their home via the internet, and after seeing video footage from a local realtor, bought it without even putting a physical step into it until seven months later.
Within a year of moving to Yankton, Dan was busy working on getting his new studio at the house up and running. Dan lost almost all of his original equipment and supplies in a devastating fire, when his studio in Alaska burned to the ground. He had to literally start over from scratch. He named his business "Willowdale Pottery", after his first residence on Willowdale Road, which is located near the James River Bridge. Even though the Bartos family has since moved to another home in Yankton, the business name remains. Willowdale Pottery has been available at annual Yankton events such as Riverboat Days and Harvest Halloween. Dan has had his pottery in downtown businesses such as Willa B's, and has been invited to participate in the Yankton Farmer's Marker. With his active family life, Dan prefers short, one day shows, close to home, these days. Dan also holds down a day job outside the art arena, and has been full time at Gehl's the past six years in the paint department. During deer season he does field dressing for Dakota Archery.
Dan uses a thirty cubic foot, gas-powered kiln he built himself, to fire his pottery. It's located on the property a little way from the house, and it's more convenient to do the necessary firing in warmer months. A kiln is essentially a self- contained furnace or oven that uses extremely high temperatures to cause the chemical process that changes clay to ceramics. It makes the clay form much more durable. Dan's kiln is heated to 2372 degrees. The kin is huge and can hold anywhere from 100 to 150 pieces. Sometimes it takes a while to make enough pieces to fill the kiln. The pieces must be arranged strategically, so that the heat moves in a particular way around the clay piece without damaging them. Dan says, "The ancient Japanese ceramicists called this, painting with fire." The firing process takes around twenty hours of constant heat and another twenty hours to completely cool. Patience is required because any rush in the process can cause pieces to fracture. All of Dan's children have experience working with clay, but his youngest daughter, seven-year-old Stella, has shown the most interest. "She always has pieces waiting to go in the kiln. She could spend hours working on her projects."
When asked if Dan considers himself a master potter he is modest and responds, "The round about answer is no. A master potter is a product of the apprenticeship system which I was not a part of, so I won't claim that title. Master or mastery implies total dominance over your subject which I do not have yet. In my 42 years potting I have figure some things out but really only just scratching at the surface of what clay can do." He half-jokingly adds, "Now I find myself just seeking ever more difficult forms and methods to keep me rolling and sufficiently frustrated." Not only is Dan continually motivated to grow in his practice of pottery, he acts as an inspirational teacher and mentor for others. He regularly offers ideas about how to deal with construction problems and sends demonstration videos and emails to people needing help. Even though Dan knows all the tricks for working with clay, when his children have were first experimenting with it, he didn't interfere. He just let them get their own feel for it and enjoy the experience. Even after all these years, Dan still finds himself continually learning new things about the craft and exploring new methods.