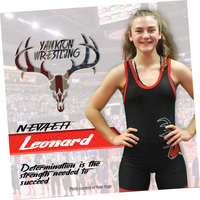 When attending wrestling matches, it's not uncommon to see young men duking it out by means of taking their opponent down on the mat. It is uncommon to see that the person doing the takedown is a girl.
Yankton Middle School eighth grader Nevaeh Leonard is such a girl. One of a few female wrestlers in the state of South Dakota, Leonard has been a familiar face in the area for the sport since she began wrestling in fourth grade, first through AAU Youth Wrestling, then through the Yankton School District in 7th grade.
According to her, she first became interested in wrestling in third grade after watching her older brother, Dominic, try out the sport.
Her mother, Kim, encouraged her to wait before joining the wrestling program.
"We never had any exposure to wrestling before Dominic did it," she said. "As a parent, it was very hard to watch that personal battle happen when you can't do anything about it. It's an emotional sport."
She said she told Leonard she could only handle one child doing it at a time and allowed her to begin the sport the following year.
When she first started, Leonard was one of three girls in wrestling.
Now she's the only one in the school district.
In her competitions, nearly all of her match opponents are male, which she admitted can be intimidating at times.
"While you're warming up and stretching (before a match), it's really nerve-wracking to look around and see all these well-built guys," she said. "When I get out there, I try to calm myself down and focus on my technique. I think about what I'm going to do because I want to switch it up so they don't expect what's going to come next. I also have to think in the moment because sometimes they'll pull something on me that I've never experienced before, so I don't know how to counter the move."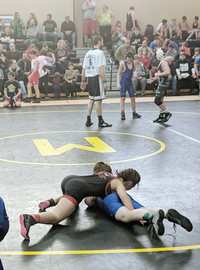 She said that last year's wrestling season — which lasts from November to February for middle school — was her worst yet.
"I went pretty much all last year without any wins, which was difficult to go through," she said. "I wanted to quit, but I kept going because I knew there were a lot of people that wanted me to."
Both Leonard and her mother agree that the amount of support can be surprising at times, with people approaching Leonard's parents at matches and expressing awe over her participation.
Other times, however, the reaction isn't as supportive.
"People have no problem walking up to you and voicing their opinion of what they think of a female wrestling against boys," Kim said. "You sometimes hear people on the side yelling (to the other wrestler), 'She's just a girl, you got this.' And old men have said to her 'You're still pretty' after a loss. It's really frustrating sometimes."
She said she reminds Leonard that she stands out due to her being a girl in a male dominated sport and that people will be quicker to judge her.
"If she cries on the mat, they'll say it's because she's a girl and can't handle it, even though boys have cried too," Kim said. "It's an emotional sport; everybody cries. You're putting everything out there and it's very personal."
Leonard dedicates much of her time and energy into practicing for wrestling matches, from getting up early on average three mornings a week to work out before school and practicing after school on weekdays. She has recently begun having practice sessions at the Yankton High School (YHS) and can already see a difference.
"Training at the high school is a lot more intense than at the middle school," she noted.
For the last two years, she has trained under the guidance of YHS wrestler Carlos Ruffo, his father and brothers, Giovanni and Royce.
The family has recently moved away and Leonard has begun working with a new trainer, though she won't forget the lessons the Ruffo's taught her.
"They've given me a lot of pointers and taught me a lot of techniques that I had never done before," she said.
Getting a taste of what wrestling will be liked at the high school level hasn't dissuaded Leonard from continuing it. If anything, it's fueled her determination to keep going in the hopes of receiving a college scholarship through her participation in the sport.
She had previously considered taking up boxing to become a UFC fighter, but has since decided to stick with wrestling.
"I would rather get very advanced with what I already know how to do and go from there," she said.
Kim credited Leonard with her ability to juggle training with her school life.
"Wrestling takes a lot of self-discipline, which she has," she said. "We don't have to really monitor or push her. She knows what she has to do and does it."
Leonard noted that there are talks of taking wrestling out of the Olympics, which she thinks is a bad idea.
"People put a lot of time and energy into becoming the best wrestler they can be," she said. "Most of the more advanced wrestlers put a lot of extra time into what they do. They have to make a lot of sacrifices."
Those sacrifices are worth it when she is able to prove any naysayers wrong by coming out of a match on top.
"Those victories at the end of the matches are rewarding enough for me," she said. "I feel accomplished.