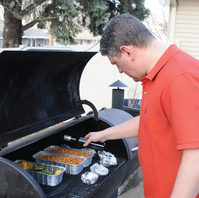 After enduring a long, tough winter, Steve and Tracy Huff decided to lighten things up.
What was the Yankton couple's solution? They put out a great spread of foods, tapa style.
So, what's a tapa?
"A tapa is a smaller portion, like an appetizer, but you can put several courses together and make a meal of it," Tracy said.
While often served in a bar, tapas are more sophisticated than the finger food that Americans often associate with appetizers, she added.
Taking it another step, Steve said the concept originated in Spain. The early tapas actually served a dual purpose.
"A tapa was originally something like a piece of ham that was placed on top of a glass of wine," he said. "The ham kept the aroma in (the glass) and the insects out of your drink. And then, you could eat the ham as an appetizer."
He described a tapa as an experience and not just a meal.
"We like tapas. It's a meal made of small portions and enjoyed in an intimate setting. I like of think of it as a Spanish style of dining that we can enjoy in South Dakota," he said.
"So many of the meals we have prepared were for large gatherings, but this (tapas) is more of something you can enjoy for a Sunday, a holiday or any other day. It's not traditional, but I enjoy non-traditional meals. One time, my grandparents in their 80s said they didn't want anything traditional for Thanksgiving. They wanted a meal they never experienced before. I was up for the challenge, and they really liked it."
Tapas can include hot or cold food; meats, seafood, cheeses, fruits or vegetables; and a variety of tastes ranging from mild to spicy.
The Huffs' menu offered something for every type of palate.
•stuffed mushrooms with Dimock cheese, scallions, shrimp and paprika;
•smoked chick peas with red onion, sumac and lemon;
•grilled asparagus with lemon zest, sesame seeds on pumpernickel rye or sourdough butter toasts;
•stuffed shells (scallops, clams and crab) with lime and paprika;
• mussels with red curry and coconut;
• carrot and orange salad with sage.
While Americans would typically eat the salad first, the tapas can be enjoyed in any order.
"It's all very quick, all very fresh, all very springy," Steve said. "You can enjoy a seven-course meal of tapas without feeling like you just put away a huge ridiculous meal."
For those who are counting, the list only included six courses. What's the seventh one?
Tracy unveiled the last course: an angel food cake with each serving topped with slivers of fruit and drizzled with guava syrup.
"Tonight, I used a store-bought angel food cake," she said. "But for desserts, I have put everything from brownies to carrot cake in the smoker."
On this Sunday evening, we gathered in the Huffs' combination kitchen and dining nook. The sun was starting to set on what had been a cool but beautiful, sunny day. The atmosphere both inside and outdoors provided a welcome contrast to the two "bomb cyclones" that had dumped inches of rain, up to two feet of snow and extensive flooding on much of the region.
In addition, Steve had been spending extensive time on a legal case and Tracy had also stayed busy at work. The previous day had seen their two children juggling an ACT college entrance exam, two performances of the Yankton High School play and other activities.
But now, quiet reigned throughout the house. The focus was on food and friendship, of sharing good times and a great meal.
"We're going to enjoy a José Andrés inspired menu," Steve said, offering a tribute to the Spanish-American chef and restauranteur.
Andres' biography reads like the ultimate Renaissance man. He has not only emerged as a culinary king. As a naturalized citizen originally from Spain, he has become known for his influential role in areas such as immigration reform and humanitarian causes.
"Andrés is the father of modern tapas in the United States, but he's also the man who went to Puerto Rico (following Hurricane Maria) and fed hundreds of thousands of people," Steve said.
In 2010, Andrés formed World Central Kitchen, a non-profit that provides smart solutions to end hunger and poverty. He uses the power of food to empower communities and strengthen economies. Notably, his team served over 3.6 million meals to the people of Puerto Rico following Hurricane Maria.
He was named one of Time Magazine's "100 Most Influential People" in both 2012 and 2018, and awarded "Outstanding Chef" and "Humanitarian of the Year" by the James Beard Foundation.
In 2018, he published We Fed An Island: The True Story of Rebuilding Puerto Rico, One Meal at a Time, which became a New York Times Bestseller.
Steve said he has been inspired by the chef's story and would like to incorporate those ideas into his own legal practice.
"At some point, I would like to introduce food as part of a mediation process," Steve said. "We get together for a fantastic breakfast, with each person ordering what he or she wants. We would share a great meal and come together in working out a solution to the issue at hand."
Taking It Easy
On a lighter note, Tracy said she enjoys tapas for the flexibility in the kitchen. The concept brings a wide variety of options without a great number of rules or work.
"I think you can get a bit more creative with it, especially with the things you put inside the mushrooms," she said. "When we decided to go with tapas for this meal, we talked about using the things we had on hand. We thought of shrimp and mushrooms, throwing in some scallions and Dimock Monterey Jack Cheese along with paprika and scallions."
The ability to break the rules starts with the salad, Steve said.
"For a lot of people, a salad is a wedge of lettuce, ranch dressing and maybe some bacon, and that's great. But salad can be many other things," he said. "Here, you have the oranges slices and carrots. How simple is it? You peel an orange, making sure you get rid of the white pulp; peel a carrot and cut it into slivers; arrange it on a plate and cover with the juice of one lemon, a tablespoon of sugar or any different flavorings."
Flexing Your Mussels
While the Huffs enjoy seafood, Steve admitted the family stayed away from it for a time.
"We were intimidated by seafood. We didn't really know how to prepare it," he said. "We were worried that we would get sick if we didn't do things right. We hardly ate it for 20 years, but now we've rediscovered it."
The Huffs dived back into the water with seafood, so to speak. Steve turned to "Chef Staci" at the Hy-Vee supermarket in Yankton for tips on preparing seafood.
Once they got their confidence back, the Huffs learned the joys of working with various seafood items. They purchased a "grab bag" of mussels that formed one of the tapas for this meal.
"We got it for $2.99 a pound, and you can get 60 to 70 mussels in a bag," Steve said. "Another time, I went into the seafood department and bought a large amount of shrimp. I surprised the guy behind the counter, but I told him that's what I wanted."
As part of our meal, Steve offered a lesson on the preparation and serving of mussels.
"If there is one that's half open, squeeze it. If it doesn't move at all, it's dead. If it moves in any way, it's fine," he said. "If a mussel is cracked or dead, throw it away. Scrub the rest, and you're ready to go. All you have to do is get the delicious mussels ready to put in your mouth."
For the next step, put the mussels in boiling liquid for six or seven minutes, Steve said. For flavor, add red or white sauce, curry or butter and wine sauce.
"We like garlic and little green onions, things like leeks, to put in with our mussels," Tracy said. "You can cut the ends of leeks, which are really strong, and then you get to the middle which is a little milder."
The mussel's role in a meal depends on the diner or the establishment, Steve said.
"As far as tapas, in most restaurants you can get mussels either as a side or as a meal," he said. "Often, the mussels come with white wine, butter and garlic."
For our meal, the curry juice that bathed the mussels can take on other uses at the same meal, Tracy said. "You can take the juice and dip butter in it, or you can dip your bread in it. Either way, it's great and has a taste that really holds a kick," she said.
The spicy kick often calls for a libation to go with it, Tracy said.
"With the mussels, you can have wine, a drink, whatever you want," she said. "Anything goes with tapas."
In the spirit of the meal, no hard-and-fast rules govern which drinks go with a particular tapa, Steve said.
"Tapas go with anything. You can have red wine, white wine, beer or any liquor," he said. "As long as you're not stupid about it, you could make any liquor or beer to go with 80 percent of tapas."
When it comes to wine, Steve called for tossing out the rules of what's "proper" with any particular meal.
"There is food sexism. People make fun of white wine. They're saying it's more or less the feminine wine," he said. "That's bull. You should choose the wine that fits the palate of the people's you're serving and the wine that matches the food on the table."
While Steve enjoys beer and cocktails, Tracy prefers wine with her meals. "I like red wine, no matter what I'm eating. I just like it," she said.
Can You Tapa This?
The meal was just beginning. We enjoyed stuffed mushrooms, stuffed shells, grilled asparagus and smoked chick peas (also known as garbanzo beans).
Again, Steve pointed to a good buy on shells. "You can get two for $4, which makes for a meal — three would make a big meal — that you can fill with stuffing, crab, clams or scallops," he said.
The Portobello mushrooms, combined with any number of fillings, make for a satisfying treat, Steve said. "I like a pair of stuffed mushrooms with a salad, and that's my meal," he said.
Tracy encouraged the use of shortcuts in the kitchen, particularly with the use of prepared foods.
"If you don't want to slice up carrots, buy shredded carrots. If you don't want to shred cheese, buy it already shredded. And If you don't want to worry about preparing shrimp, just buy cooked shrimp," she said.
"You don't have to tie up the kitchen or the house in putting this together. If you buy something ready to go, it cuts down on your prep time. It's O.K. to cheat!"
The Huffs considered this meal one of their easiest in terms of prep time and ingredients. Even the actual cooking was limited to one area.
"We had everything in the smoker except the onion, the chick peas and the oranges and carrots," Steve said.
Tracy has taken the tapa to a different level, creating pot pies as an offering. She turns to professional chefs for other ideas.
"I like to use a lot of things that the 'Pioneer Woman' uses on the Food Channel," Tracy said. "She has a lot of recipes that make for a really good foundation that you can build on for your own meals."
Tracy enjoys exploring new food ideas.
"I like things a bit rustic. I'm very much into it. And I find recipes that work really well when you're busy," she said. "If you plan ahead, you can buy things like frozen peas and corn when they're on sale and use them later for things like the pot pies."
Tapas can be healthy as well as delicious and filling, Steve said.
"This meal didn't have a lot of fat or sodium. Most of the fat come from the cheese stuffed into the mushrooms," he said. "The beauty of tapas is that you can tailor it for any tastes or dietary needs. We can have seafood, imitation crab, vegan or vegetarian."
Chick peas provide a rich source of fiber and protein, and they can be low in sodium. But what if you're concerned about, well, flatulence after enjoying a healthy serving of chick peas at a gathering?
Steve didn't seem overly concerned about a faux pas. It's more important to do what comes naturally, he said.
"We're not shy people. If someone is concerned, I suppose you can take Beano before the meal. But otherwise, just let it out," he said with a shrug. "I mean, everybody loves hummus, and what's the big ingredient in hummus? You got it."
Something New
The Huffs' enjoyment of the Spanish tapas reflects their desire to literally sample new worlds when it comes to food. Many people who may have been reluctant in the past when it came to experimenting are now embracing new gastronomical experiences.
The Huffs find that people of all backgrounds enjoy ethnic foods, and they combine a variety of tastes and cultures in their own cooking.
During past meals, Steve has talked about the Greek and Jewish neighborhoods, stores and restaurants while he was growing up in Sioux City. Those ethnic groups still remain strong, but they have been joined in recent years by an influx of Hispanic and Asian cultures and cuisines, he said.
The local food scene reflects those demographics, he said, particularly from Asia. He noted a growing presence of Thai, Vietnamese and Chinese establishments catering not only to those ethnic groups.
In addition, the Sioux City area has seen a growing interest in vegan and vegetarian diets, also reflected by supermarkets and restaurants.
Those types of ethnic and specialty stores and restaurants have been common in large cities for generations. However, Steve sees those diverse offerings finding their way into rural areas often associated mainly with meat and potatoes.
"Would these types of foods have been as popular 20 years ago in a lot of our immediate area? Maybe not," he said. "But I think you're going to see more and more of it. People are looking for something different, and they like what they're finding."